With Bonnaroo Music Festival and CMA in Tennessee this weekend, plus Pitchfork in Chicago next weekend and scores of other summer music festivals this summer here's our list of must-see bands.  Summer music festivals are a great way for new bands to get exposure, but it's also a great opportunity for you to discover cool new music. With the popularity of summer music festivals increasing, more are cropping up each year. This means that there is a great possibility that there is a venue that is close to YOU! We've already helped you pack your bag with musicfest essentials, now we've created a list of a few of our favorite artists that are currently on tour and playing summer music festivals across the United States. A genre-defying jam band with rock, reggae, and funk influences, Dispatch is back after an almost 10 year hiatus.  The band is made up of just three members…Brad Corrigan, Pete Francis Heimbold, and Chad Urmston.  They hit the road on tour in 2011 and released a new album in May.  Check out "Valentine"
A folksy, neo-hippie group that consists of at least 10 members, Edward Sharpe & The Magnetic Zeros put on an amazing live show.  At any given time you might see a fiddle, ukulele, accordion, trumpet, keyboard or viola… along with the ordinary guitar and percussion.  Alex, the idiosyncratic lead singer will likely be dressed in all white, seemingly pajama-like garb and may very well be barefoot.  And you can feel their excitement while they are on stage.  Listen to "Home."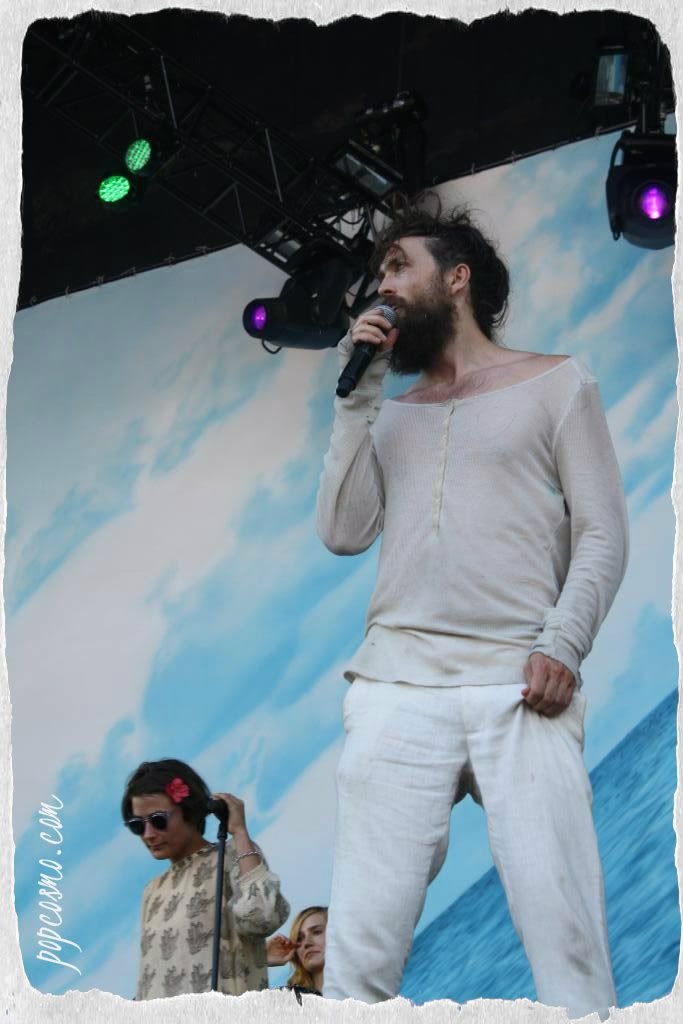 With their bluesy/country/rock feel, Heartless Bastards is a four-piece band with Ericka Wennerstrom on lead vocals.  Her voice is throaty and perfect.  They released their fourth album (Arrow) on Valentine's Day.  Could this be why we love them so much?  Listen to "Mountain" and chill.  Because it's a chill song.
The Shins are described as a folk/surf rock band.  We prefer to describe them as "jangly."  You may have heard their music on The OC, Gilmore Girls or even The Spongebob Squarepants Movie.  Spongebob Squarepants.  Do you really need any more reason to listen???   New Slang
Led by Sameer Gadhia , Young the Giant is a rock/pop band whose song "Cough Syrup" was recently featured on GLEE. People love to yell out, "Which one is Young" and "Which one is the Giant?"  We don't really care which is which.  All we know is that Sameer has dreamy eyes. And dreamy lips.  And dreamy hair.  Watch the official "Cough Syrup" video so that you may take in all the dreamy.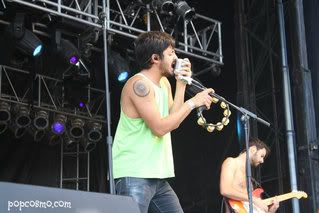 Michael Wayne Atha, aka Yelawolf, is a rapper who proudly hails from Alabama…and you'll often hear a "Roll Tide" and see him show off his Bama tats during his high-energy shows.  Yela has appeared on The Road to Stardom with Missy Elliot.  He also has acting chops.  He's appeared on an episode of CSI: Crime Scence Investigation.  With friends like Travis Barker and Wiz Khalifa, this guy is gonna go far.  It doesn't hurt to collaborate with Kid Rock either…
Mac Miller…hip hop artist…friend of Wiz Khalafia…has a remix of Justin Bieber's "Boyfriend"… really, really cute.  So here.  Now you won't have to frantically search for the remix…
You know how they say a relationship is better if you're friends first?  Well, the same can apply to bands.  GROUPLOVE became fast friends but didn't actually form a band until a year later.  "Tongue Tied" is a great song…and semi-naked pale guys falling into kiddie pools are pretty funny.  And it was also sung on GLEE.
Cage the Elephant hails from Kentucky.  Because they are good friends with one of our all-time faves, Sleeper/Agent, you'll often find them touring together…which is double the awesome.  Their song "Ain't No Rest for the Wicked" was played in the video game "Borderlands."  And Matthew Shultz walks kind of like a zombie in the video…
As we were listening to Alabama Shakes, a girl behind us said of Brittany Howard, the lead singer, "Her voice is amazing.  She is like the Adele that no one knows about yet."  We can't think of a better description.  Plus, when we ran into her in the VIP artist area, she totally humored Lisa and posed for a picture after she turned all giggly fan girl on her.  We dare you to listen to her sing live without her soulful, bluesy voice giving you chills.  We dare you.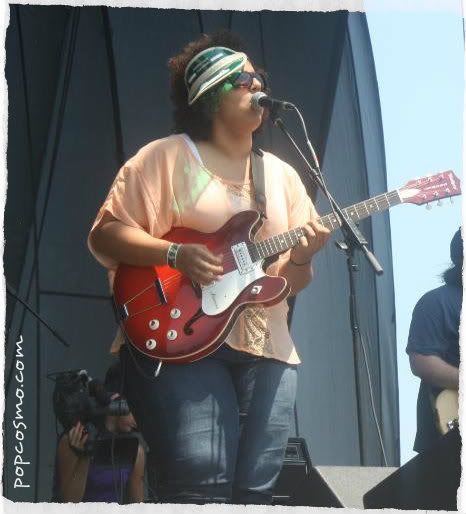 Lead singer crowd-surfing in a hamster ball?  Copious amounts of confetti? Balloons and beach balls bopping through the crowd?   Capes, oversized furry bear gloves and one-piece gold lame' bodysuits?  Yes.  Flaming Lips has it all.  This is the show not to be missed.  Led by Wayne Coyne, the Flaming Lips have been around since 1983.  They were named on Q Magazine's list of 50 Bands to See Before You Die.  We emphatically agree.  In fact, we are already stalking tickets to catch the next show closest to us.  For your enjoyment… a song about a girl defeating pink robots…
All photos taken at Hangout Music Fest, in Gulf Shores, Alabama.