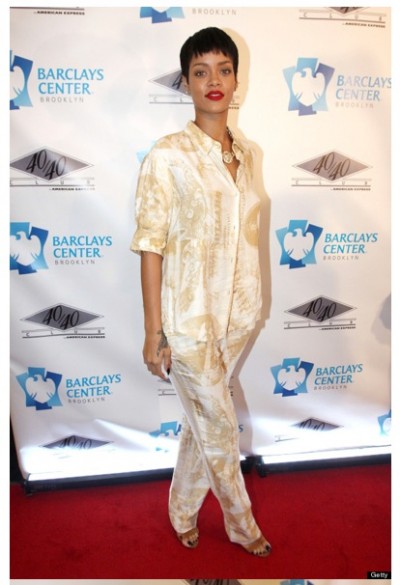 Pajama fashion has been around for a while now. Love it or hate it, it's here to stay. Bloggers, celebs, and fashion designers have taken it up a notch from the fuzzy and fleece pjs teens were wearing to the mall so perhaps pajama inspired fashion is taking an elegant turn... maybe. Rihanna certainly seems to be looking glam, and the red lipstick and heels vamp it up a notch. I'm not sure the whole pajama from head to toe look is going to be our thing... but we didn't want to discuss just pajamas! Oh no....
image via HuffingtonPost.com
There's a new trend that's one step ahead. We've seen pajamas, we've seen slippers, although that one bugs the heck out of us. Honestly, there are so many comfortable shoes (UGGs, Toms, etc, folks, they even look like slippers and feel like slippers, but are NOT slippers) that you don't need to wear slippers out the house! But we are not going to tell you about slippers. Nope. This trend is new.
We want to talk about... blankets. Yep. Blanket style. One step beyond pajama inspired fashion and the next big thing. We are willing to bet on it, even if it takes the fashion capitals of the world a few years to catch on. Way back when everyone was laughing at teens for wearing their pajamas outdoors, teens were setting the trend. And now "fashionistas" everywhere are wearing glam pajamas and "setting a trend." Well, teens are wearing blankets. That's right, not a cape, not a pashmina, not a coat. A warm and fuzzy blankie wrapped around their shoulders to keep them warm. From afar it may look like a fashionable cape, but up close, you'll see it's a blanket. And you'll do a double-take. And you might stare, or giggle, or even roll your eyes.
But a year or two from now, when bloggers and celebs start wearing blankets on the streets and designers start showing them on their runway as the latest thing, remember this: teens set trends and trends trickle up. It takes a while, but teens are the risk-takers. And thank goodness they are. Otherwise, fashion might get stuck in a middle-aged rut and move forward at a slower pace than the frantic teen pace it's accustomed to... and wouldn't the fashion world be dreadfully boring?
We say bundle up and let the fashionable risk-taking teens do their thing! It's a giant step forward for fashion, as well as inspiration for the fashion thinkers and do-ers everywhere. We love it... whether it's our fashion statement or not.