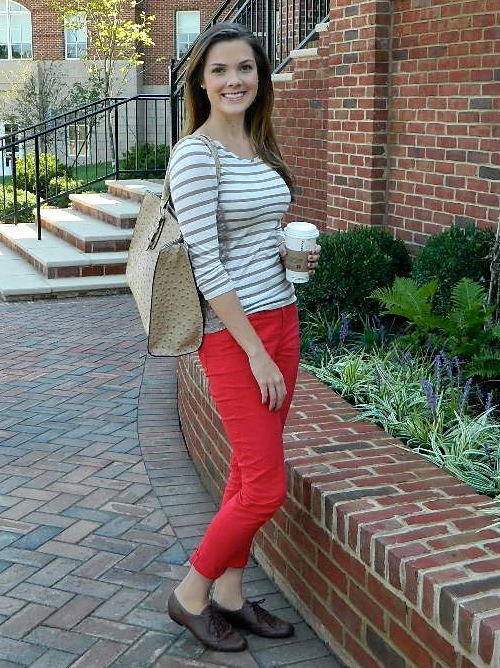 Alyssa and Amy of EastCoastClad.com join us to talk about college fashion. We thought it was perfect for fall because it also applies to high school; and since they have such a fashionable blog, we knew they'd provide great fashion ideas to college gals and high-schoolers alike! The two most frequent style questions are 1) what to wear to class, and 2) what to wear out at night. Here are what Alyssa and Amy had to say! Alyssa: What to wear to school? What a person wears to class says a lot about them. Most people opt for the comfortable look with sweat pants and a hoodie. However, that says I am here but I wish I were at home sleeping instead. If you don't take yourself serious why should anyone else, including the professor. I believe that you should dress your best wherever you go, because you never know who you will run into. Especially when going to class in college, you may have a speaker come to your class and they could possibly be a future connection for work. If you are wearing the clothes you slept in the night before, they will not take you serious. If you were wearing a polished classic outfit they would be more likely to take the time to meet you.
Alyssa's Campus Outfit: Shirt: ModCloth; Jeans: Dittos; Shoes: Target; Bag: Target; Watch: Michael Kors; Bracelets: Pandora and vintage; Nails: Essie (Buy Me A Cameo)
My outfit says, "Hello, I am here and ready to learn!" It may just be my bright red jeans that catch everyone's attention, but this outfit is fun and still has that polished factor. You can never go wrong with a striped shirt and colored denim. Also, I am not much of a backpack girl so I like to switch up with different totes according to my outfit. I love just throwing my books in a big bag that actually matches my outfits. Nothing to me looks sillier than a girl wearing an awesome outfit, and has on a huge chunky backpack. It takes away from the person's style in my opinion. These shoes are great for walking back and forth to classes. For makeup, you don't need anything fancy. All natural colors and simple eyes are perfect for the daytime—that means no smoky eye.
You want to be comfortable and able to get around campus while still looking chic. My best advice is, what to wear to school is something that is simple, classy, and modest. Ditch those sweat pants and slippers and dress for success! 
Amy: What to wear for girls night out or date night? Dressing for a a night out or date should be fun and easy. Whether you are going on a date with your boyfriend of a year, or going on your first date, the rules stay the same: be yourself and keep it simple. One thing guys dislike is a girl who is over-dressed with too much make-up on. He is there to see you, so be sure to show your true self.
Amy's Date Outfit: Lace shirt: Zara; Skirt: Nordstrom Rack; Boots: Aldo; Bag: Vintage Coach; Watch: Fossil; Necklace: Old Navy; Bracelet: H&M
For my outfit, I chose fun, girly pieces like my floral skirt and lace top. I paired the skirt with my tried and true brown leather boots from Aldo, which are a classic and a necessity for all girls. I kept my jewelry simple, choosing to wear my brown stone necklace, yellow and gold chain bracelet and rose gold watch. Wearing too much jewelry can be distracting and uncomfortable; definitely two things you do not want on a date! Also, be sure to carry a simple bag. Nothing too big because 1) guys are afraid of extra large purses and 2) What do you really need on a date with you besides the necessities…leave the Band-Aids, planner and back up shoes at home.
As for make-up, definitely keep it natural! I chose to wear a BB cream on my face with a touch of bronzer and blush. On my eyes, I wore smudgey eyeliner and mascara, and for my lips, I chose a lipgloss in a pale pink color. Choosing the right lipgloss is essential. You don't want to get a crazy color and end up with it on your teeth and chin after dinner, or get a super sticky lipgloss. Keep it kissable!
XO ~ Alyssa & Amy of East Coast Clad