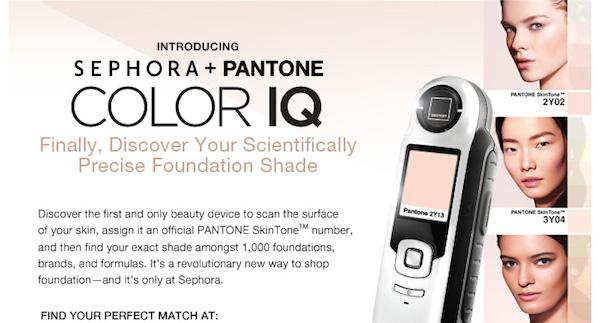 I don't wear foundation... but this ad for Sephora Color IQ totally and completely intrigued me to the point of luring me in my local Sephora when I was recently at the mall. I could have my own Pantone color? Who knew! I don't like to buy or wear foundation because I'm not good with colors and am worried that since I can't tell if my makeup matched my skin, I'll be "that lady" walking around with an orange face and a very obvious line at my chin or neck. I'd rather have a few discoloration spots than have on too much makeup. Since I usually purchase a new sunscreen for spring and summer, and my skin is becoming more and more discolored lately, I thought it might be time to start using either a powder with coverage or a tinted moisturizer + sunscreen. I was curious what would be recommended by the Color IQ "test."
So off I went. I immediately found the Color IQ test at the front of the store and a salesperson who placed a wand against 3 spots on my face and gave me my number - the entire process took about 3 minutes. She emailed me the list so I could do my research at home (without adding me to a marketing list - hurray, no spam!) but also gave me samples.  I'm trying Laura Mercier and so far, I'm very pleased with it.
I'm a 1R07 and a few of my recommendations are:
Since both of my kids were with me, we decided to go ahead and test the system a little bit and see if, perhaps, we all ended up with the same Color IQ. We didn't, and I left impressed with the results, and the fact that I can finally know what shade to pick without simply guessing anymore. The Sephora Color IQ system is ingenious and 3 reasons I'd suggest it:
1. No more guessing which shade is closest to your skin color. 2. You can read the reviews for all the colors and brands that are suited to you. 3. You can sample those colors and brands for the perfect match to your needs.
When summer arrives and my skin tone changes, even though I will be wearing sunscreen, I'll go back for another Sephora Color IQ test and see if I need to switch shades. No more worrying about being the lady with the orange line on my face anymore!
xo ~kim
PS: This post is NOT sponsored, I simply wanted to share my experience with you.