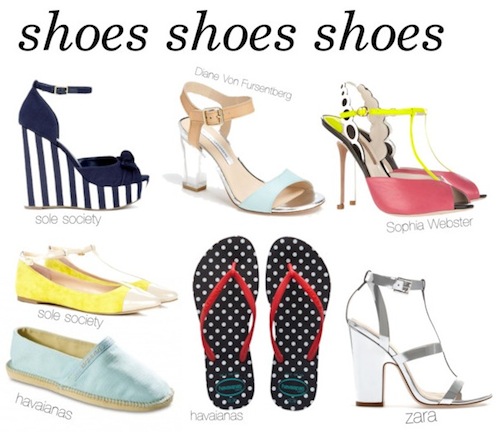 This is a sponsored post. However, all of our opinions regarding Havaianas are our own and all of the shoes displayed below are ones we would totally wear.
Spring shoes  and summer shoes are the best not only because Chloe and I are craving color, but because they are the best excuse for pedicures that we know. Finally, toes are peeping out from Uggs (love 'em or hate 'em, you can't deny they are comfortable) and it's time to rock the pedi and show off some skin! And with all the new styles this spring, it's hard to choose just one fave style, there are so many trends going on that Chloe and I each selected a few we are craving. But one thing we both love is comfort, so we do agree on Havaianas! No debate there, it's pure lovefest!
Chloe's picks:
Converse: Can we say "classic"?  From Coachella to class to everything in between. J.Crew: Touted as the "heel for girls who wear flats." My kind of heel. Target: Ankle strap, not too high, pop of color. Check, check, check. List done. Havaianas: I used to live in Havaianas flip flops when I lived at the beach, but I love this style!! They are a little dressier, and in this season's simple sandal style. A simply must-have.
Kim's picks:
Sole Society: Graphic soles are such a big trend, and I love me a wedge. I can walk forever in them! DVF: Ditto a chunky heel. Make it lucite for spring to keep it mod. Combine it with pastels and neutrals and who needs a neon? Can we say "fresh"? Sophia Webster makes shoes fun. The mad hatter of shoes. I will get a pair. I will. Sole Society: Cap toe, pointy toe, and dainty ankle strap. Oh, and check out the price on this Sole Society shoe. Havaianas just make my feet feel like they are walking towards the sand. I wish. And this sky blue (or is it ocean blue?) is to die for. Havaianas: Don't these polka dot Havainas make you think prep? Cute beach bingo and buff boys surfing. Ok, well, that's where my mind goes when I slip on my Havaianas! Zara hits the jackpot with this shiny strappy sandal. Again, it's my kind of walkable, it's fix-your-lipstick-in-it mirror-like shiny, and silver is the new gold is the new black. Love.
Sponsored by