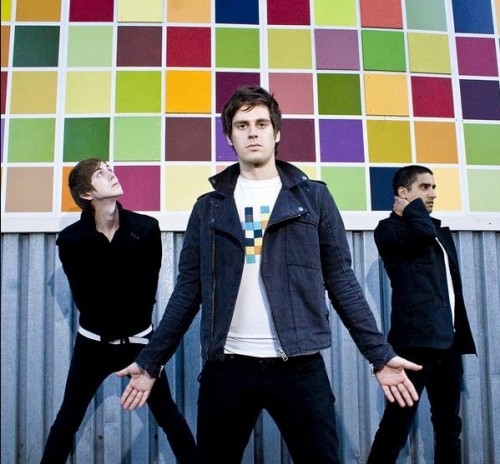 Popcosmo loves discovering music! We stumbled upon our latest band crush on the lineup for the upcoming Deluna Fest Music Festival in Pensacola, Florida. The minute we heard Lights Resolve, we KNEW we had to find out what these guys are all about. And not because they are totally cute. Or that they've (reportedly) wrestled a bear once. Their music ROCKS! But being totally cute and (reportedly) wrestling a bear once are added bonuses. Lights Resolve formed in Long Island, NY in 2006. They have since been named one of 2009's "Breakout Bands" by Rolling Stone, played with the likes of Panic! At the Disco and Dashboard Confessional, had a song featured on Season 1 of The Jersey Shore AND logged some major downloads for their song "Dreaming of Love," from the Rock Band video game. Representing Lights Resolve are:
Matthew Reich – Vocals, Guitar; Neal Saini – Drums; Luke Daniels – Bass
We caught up with Matthew who was awesome enough to answer a few random questions for us.
Age: 29
Always has: Drive
Proudest of: Music we've created and shows we've played.
Is thankful for: Music we've created and shows we've played.
Wants to: Write more music
Is afraid of: Not being able to write music and also snakes.
Believes everyone should: Hydrate properly.
Is embarrassed by: Voice cracks on stage...make sure you warm up properly all of you vocalists!
My style is: Better than yours...actually, probably not.
Pet peeve: Smoking and BO.
What are 3 things people probably don't know about the band?
We are one of the most diverse bands in terms of race and religion, we like the movie Twins (featuring Arnold Schwarzenegger and Danny DeVito) and we wrestled a bear once.
Were any of you in band or Glee Club in high school? Was it considered geeky or cool? I was a leader in my marching band. I taught the marching band how to play hip hop songs at the football games. I was cool as shit!
Do you guys get along all the time? Anyone have annoying habits? As with brothers, we are constantly bickering and making fun of each other...but all in good taste. Annoying habits? Where do I begin...I possess a bunch as well.
What book is on your nightstand? Reading for Dummies
If you could only take 3 things on tour with you (besides absolute essentials) what would you bring? An avocado, a snorkel and an ice pick.
Do you hang out aside from the band? If the weather's good.
Coffee, Red Bull, Soda or Water? Red Bull because they are fantastic and ship us cases to keep us energized.
If you were a girl, which of the others would you date and why? Neal seems to be the sweetest guy in the band, plus he's got those long locks of love!
What musician/band from the past would you want to work with? The Partridge Family Band would be pretty wild.
Do you follow back on Instagram or Twitter? Absolutely! Follow us now: @lightsresolve
You can catch Lights Resolve at Gramercy Theater in New York, NY on 09/29/12
Check their website for upcoming events, album downloads and other fun stuff here
"With the Pieces"
http://www.youtube.com/watch?v=KLW5jaBNxwc&feature=relmfu
"Another Five Days"
http://www.youtube.com/watch?v=Pbt-ayxUkUM&feature=relmfu